This article was repurposed from Thrillist.com. Big thank you for giving us a list of reasons to keep our sweats on!
Tired of hearing and seeing the same Tiger King memes? Perfect, because this list is consists of binge-worthy episodic series' to freshen up your TV time.
8. Westworld (HBO)
Season 3: 10 episodes.
In the first season of Westworld, Anthony Hopkins' Dr. Ford encounters a wayward child character who turns out to be a robot facsimile of a preteen Dr. Ford, and asks, "Are you lost?" He may as well have been talking to any of the countless viewers who spent much of Season 2 losing interest as the twists and time jumps got ever more confusing and outlandish. I, for one, loved it, and even watched the season twice more, but I still couldn't tell you whether Maeve, Bernard, the Man in Black, and our other old pals from the park were dead but not dead dead, dead but actually dead, dead but alive in robot paradise world, or dead but definitely returning next season somehow anyway. While Season 3 isn't a total reset, the series has a different vibe to it now that Dolores has relocated to the real world and is plotting to destroy it. The proceedings are less immediately confusing, as they play out in a more linear fashion and clears up some lingering questions in a straightforward way, but we'll see what the full season brings. Regardless: Westworld's back!
7. The Plot Against America (HBO)
Miniseries: 6 episodes.
David Simon and co-creator Ed Burns adapt Philip Roth's novel that imagines a "what if?" scenario that directly addresses the America of the past four years: What's the worst that could happen if a populist candidate somehow won the presidential election? In the short, well-written but sometimes too-on-the-nose miniseries' case, the worst case is a Nazi sympathizer altering the course of World War II and the safety of millions of Jewish families.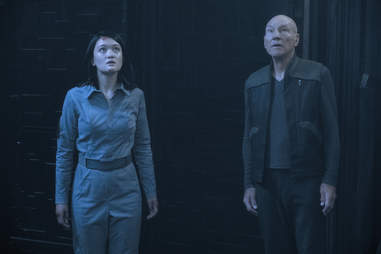 6. Star Trek: Picard (CBS All Access)
Season 1: 10 episodes.
The number of times I said "Tea. Earl Grey. Hot." while waiting for this series focused on the continuing adventures of Patrick Stewart's Captain Jean-Luc Picard is at least as high as the number of Star Trek movies. The ten episodes in Season 1 don't reinvent the Star Trek wheel by any stretch of the imagination, but Picard, which sends us along with the retired Enterprise captain in full-on "one last mission" mode on a quest to save Data's "daughter" from scheming Romulans, hits all the right nostalgic notes while also forging its own path.
5. Awkwafina Is Nora From Queens (Comedy Central)
Season 1: 10 episodes.
Hey, look, it's Nora from Queens, aka Crazy Rich Asians scene-stealer and The Farewell star Awkwafina, in a Comedy Central show in the vein of Broad City.
4. Ozark (Netflix)
Season 3: 10 episodes.
The Byrdes fall further into the Missouri sludge to avoid death by cartel hit. Season 3 ups the ante significantly over the uneven second season.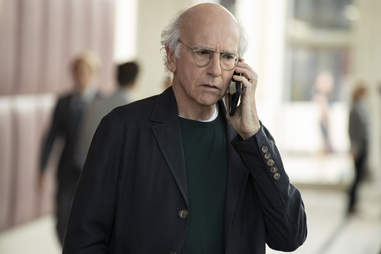 3. Curb Your Enthusiasm (HBO)
Season 10: 10 episodes.
Has it really been 20-plus years since Curb Your Enthusiasm made its stealth brilliant debut as a mockumentary about Larry David's post-Seinfeld attempt to revive his stand-up career? Yes, and, ever since, I have thought about the 1999 special that led to the show's episodic debut a year later, for the scene where Larry calls an exec and says that he was an executive producer on Seinfeld and the guy replies, "Never watch it, not a fan," which is so applicable in every day life. Anyway, the show's come a long way over two decades and 10 seasons, but it's still exactly what you'd expect, and funnier, at minimum, than Season 9, and probably a few other seasons as well. You'll laugh, unless you're one of those "Never watch it, not a fan" guys.
2. Better Call Saul (AMC)
Season 5: 10 episodes.
It's quite sad that we're coming to the end of Better Call Saul and the Saul Goodman saga. When AMC wraps up Vince Gilligan's highly regarded but still always underrated prequel to Breaking Bad after Season 6, it'll create a Bob Odenkirk-shaped hole in our hearts — unless Gilligan and AMC have a secret plan to follow it up a Saul Goodman sequel series that dives more in depth to his Cinnabon years. Unlikely. For now, we will have to make do with the best written drama on TV, marvel at Kim Wexler's Elizabeth Warren energy, and start placing wagers on how it all ends. My money is on a shot-by-shot recreation of Saul's first meeting with Walter White.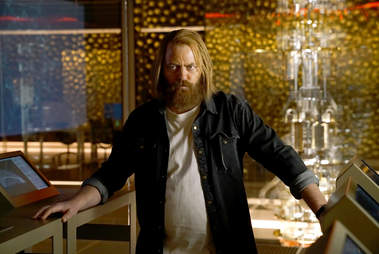 1. Devs (FX on Hulu)
Limited series: 8 episodes.
If you love a good yarn involving quantum theory, murder, and Nick Offerman in a villainous beard, do I have a show for you. Alex Garland's moody, visually stunning techno-thriller is that show.
If you know of or have resources or tips that others could find useful, feel free to send them our way using the contact form on the Share with Us Page.